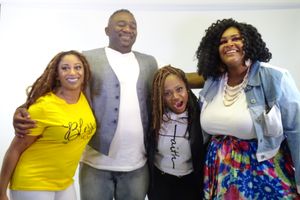 About
Higher Purpose Music Group - Get Ready 
Higher Purpose music group blends Hip-Hop, R&B and Pop with Gospel on debut self-titled album 
CLEVELAND, OH – Higher Purpose is a four-member group composed of family and friends whose new self-titled album is bringing the Gospel in a unique style. By blending elements of praise with Hip Hop, R&B and Pop, "Higher Purpose" is a modern day take on timeless Gospel music with songs that are guaranteed to bless and uplift your spirits. 
Made up of rapper Malorie-Charee and singers Cheritta, Kasey and Monte, Higher Purpose Music is a group that came together one year ago with the intention of serving God by inspiring the world through uplifting messages. They went to work immediately, co-writing songs and coming together every Friday in the recording studio to put together the 17 songs that make up their debut album. This urban inspirational group has created something that has more of a Hip Hop and Pop feel to it than what most would associate with traditional Gospel. By seamlessly intertwining Malorie's raps with the harmonies of the other members of the group, the sound becomes something equal parts intriguing and groundbreaking. 
"The album is about a person's journey through life and meeting faith, and how God guides that individual through that process," Malorie said. "There are many things that happen in life that take us down the wrong path, and this album is about how we often look back when we're on the other side of those things and realize that we've come out better people, walking out and feeling more blessed." 
The debut single from the album is "Get Ready." A music video for the song was released in September and has already garnered tens of thousands of views on the group's YouTube channel. The group calls it a fun and happy song about how the Lord will send his blessings, even in the midst of a storm. 
"It's a motivational song about anticipating the good that's going to come your way," Malorie said. "It's a great song to show what we're trying to bring to the world with our music. The message of our music speaks to the personal walk with God. Our music encourages people to look within and reflect on their relationship with God and the struggles that come with wanting to be Christ-like but still being wretched and overcoming thru faith. I hope people are uplifted when they hear it and that it inspires them. We want people to know that God is real and He loves them no matter what. It doesn't matter how messy or clean your life is, God loves you. Period. That's the overarching message behind everything we do: You were created by God and He loves you and no one or anything is more powerful than that."